Looks:
They have redesigned the icons on iOS 7. This has certainly given it a new feel. It took me a while to decide if I like it or not. At first I have to be honest and say I did not. But after a few days I actually began to like it and now the old design look archaic.
 Usability:
The main feature that stands out for me is the control centre. Sliding up from the bottom of the screen brings up a host of useful features. The one I use the most is the torch. They have finally implemented a torch into the iOS which is easy to get to. Another frequently used application in this menu is the calculator. Thumbs up from me apple. I do wonder why is has taken so long but you got there.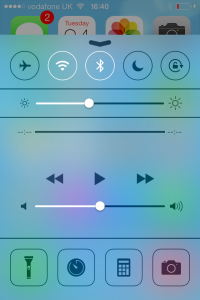 The new notifications slide down menu makes it even easier to keep up to date with appointment notifications from Facebook and all that jaz.