When do I Need to Replace My iPhone 5 Screen?
You will need to replace your iPhone 5 screen if…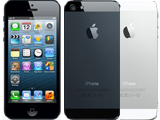 … the screen is cracked. It is very highly recommended to get your screen replaced as the glass often splinters and can lodge in your fingers or thumb.

… there are dead pixels, black ink spots or bleeding on the screen.

… your screen might doesn't turn on but your iPhone 5 still boots up.
Are the Parts You Use Official?
Yes. We only fit the official iPhone 5 screen.
Is My iPhone 5 Safe With You?
We have a highly skilled team of technicians with many years of experience. We started repairing the very first iPhone when it came out many moons ago. Even before that we gained a very good reputation repairing PDA's.
We are very confidant in our abilities and in the unlikely event we cause any damage to the phone we will replace it for you.
Will You Price Match if I Find the Service Cheaper?
Yes we will price match providing it is from a VAT registered company that is not just someone repairing phones from their bedroom.
We are a VAT registered company that has been running for 11 years with permanent offices based in Leicester. We have a manned telephone 9am – 5pm Mon-Thurs and 9am – 4.30pm on Fridays (excluding bank holidays).